Educated: A Memoir
by Tara Westover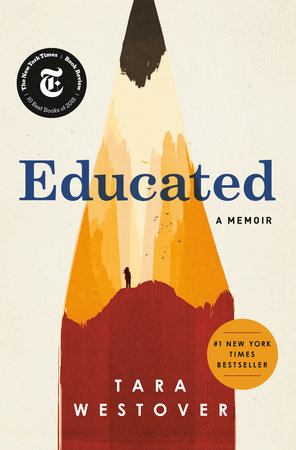 I cannot recommend this memoir highly enough. Not since
The Glass Castle
by Jeannette Walls has a true story gripped me, challenged my thinking, and changed my perspective like Tara Westover's first book. Raised in a strict Mormon family in the mountains of Idaho, Tara and most of her siblings were kept out of school, not to be educated at home, but to work in their father's scrap yard and their mother's homeopathic and unlicensed midwifery business. Luckily for all of us readers, Tara kept untold number of journals that detail her life: the abuse by her brother, the unending brainwashing of what world history entailed, the attempts by other brothers to break free, the utter lack of safety in her life, the horrific accidents that devastated her family, the total reliance on naturopathic curatives by her mother, and the impact on her family of her father's mental illness. And just when you think life cannot get crazier, Tara's college and graduate work takes us down another insane rabbit hole. It is a profound look at what happens when one doesn't educate a child on things we think are basic. What if a child has never heard of the Holocaust, the Civil Rights Movement, Martin Luther King? How does this skew their view of the world? How does the world look on this child, when as an adult their questions and comments show not only ignorance, but whiffs of racism and hatred? Whose fault is it? Parent, society, the individual herself? Can a lack of education, or conversely a formal education, fundamentally change society? This is a powerful book that will completely engross you, fascinate you, and in the end,
Educate
you. Do not miss this book!
Kill the Angel: A Nove
l by Sandrone Dazieri
Having read
Kill the Father
last year, I was excited to get my hands on the second book of this Italian author who writes crime novels quite reminiscent of
Girl with a Dragon Tattoo
series. While this second one did not knock my socks off as the first one did, it is still a solid detective novel with two quirky and compelling characters and an extremely topical plot line. The story begins with a deadly poison attack on a train entering Rome; seen as a terrorism by Muslim extremists, the police stir up a hornet's nest with their investigation. Columba Caselli, a female police detective with some serious baggage in her past involving death, bombings, and guilt once again turns to layman Dante Torres to help her solve this crime. Dante, a previous kidnap victim with personality quirks that could fill a psychiatrist's schedule for decades, believes the crime to be committed not by terrorists, but by a serial killer who has avoided detection for years. As we follow these two investigators down numerous rat holes, it occasionally gets a bit confusing and the book is longer than I felt it needed to be, yet I could not put it down. If you like complex detective crime novels, this one is for you.
The Liar's Girl
by Catherine Ryan Howard
Ireland, college kids, + a murder = great vacation read! The story moves between the world of today, where Allison is living in a town in the Netherlands, has a good job and caring friends, and has not returned to her homeland in almost a decade and her college world of the past. When Irish police come to call at her home in Breda, Allison is compelled to finally return to Ireland and confront the horrors of the past where her freshman year boyfriend was not only arrested for a series of horrific murders, but confessed and has spent the last ten years in a psychiatric hospital. Now that a copycat murderer is once again busy at their Dublin university, the police need Allison to confront Will, eliciting details and information about the crime so they can catch the killer. However, Will now says he is not the Canal murderer so who does Allison believe? The twists and turns are compelling, the writing is solid, and the characters are well developed; it is a solid first mystery outing for this author.
A Mother's Reckoning: Living in the Aftermath of Tragedy
by Sue Klebold
Published two years ago, this is a particularly relevant book to read, considering the school massacre on February 14, 2018 in Parkland, Florida. This account of the Columbine shooting and its aftermath is written by the mother of Dylan Klebold, one of the two shooters who walked into Columbine High School on April 20, 1999 and murdered 13 people and injured 24 others. Told in an incredibly honest and authentic voice, Sue Klebold pulls no punches and relays to us every detail of every moment both before, during, and after this tragedy. She tells of Dylan's life - his childhood, their family life, his school history - all seen through his mother's eyes, not the media's. Sue Klebold also does a tremendous amount of research surrounding not only school violence, but around teenage depression and suicide, and comes to some painfully honest observations about her own son whom she ultimately had to see as a murderer. Not an easy read due to the painful content, but incredibly compelling and eye-opening. It reminds us not to judge, to open our eyes to the needs of those kids who don't 'fit,' to all the victims in this type of tragedy including the perpetrators, and the vast need for more research and more support for brain health in this country.
Court of Thorn and Roses/Court of Mist and Fury/Court of Wings and Ruin
by Sarah J. Maas
Can you say 'brain candy' for vacation reading?! If you like YA fantasy and you have yet to discover Sarah J. Maas, who is the queen of the genre, I would strongly suggest you pick up this series. But be prepared - you will not be able to put it down until you have indulged yourself in all three books, well over a thousand pages. The main character is Feyre, a human girl who lives next to the Wall, the boundary between fairyland and the mortals they once enslaved. Feyre is one of the most compelling characters I have found in YA fantasy; she is life-smart, tenacious, loyal, shockingly stupidly brave, passionate, honest, and just overall a badass. Her foils and companions are a variety of fairy folk who are deep and complex, with backgrounds filled with tragedy, war, and murder, as well as two human sisters who are as different from Feyre as they could be. Throughout the three books, we see Feyre fall in and out of love, fight some seriously wicked beings, go to war, save a variety of creatures, and prove herself to be one of the most well-rounded heroes of today's YA novels. Trust me - this series is un-put-downable. (Warning: the YA classification is questionable - there's more sex scenes than in the
Outlander
series!)
Moriarty (Sherlock Holmes, #2
) by Anthony Horowitz
Because I loved the first book to be approved by the Sherlock Holmes society,
House of Silk
, I figured this second one would be a hit as well. The answer is...nope. The story line is confusing at times, lots of good bad guys but not very well developed good guys, and an extremely disappointing ending. And where the heck was my buddy Sherlock Holmes??? He never appeared so no, this was a mystery that all I could say was "blech" when I was finished.