A House With No Windows
by Nadia Hashimi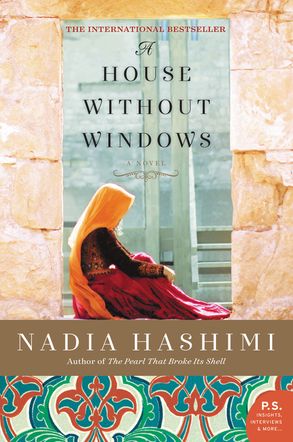 Back with her third adult book, Nadia Hashimi never disappoints me. Her first book,
The Pearl That Broke its Shell
, was the winner of the Goodreads debut novel in 2014 and was one of my favorite books of the year. Her second,
The Moon Hangs Low
, was a powerful story of Afghan refugees, as they tried to make their way to Western Europe. Her latest novel focuses on the 'crimes' of women in Afghanistan, typically involving accusations of immorality and sex. The main character, Zeba, after being found holding her husband's bloody body, is accused of murder and locked up in a women's prison. Her lawyer Yusef, a young idealistic Afghan-American, returns to her village, going through the past history of Zeba and Kamal's marriage, as well as the traditions of their community. As Zeba acquaints herself with the other women prisoners, we also see the honesty, the frustration, the dignity, and the ultimate inequities in the supposed legal system of this decimated country. This is a powerful novel that tells a heart-wrenching tale of redemption and honor.
A Little Life
by Hanya Yanagihara
It's hard to know where to start with this book...finalist for huge awards, loooooong (as in 814 pages), weird cover. All these things combined negatively so it sat on my bedside stand for months. Finally, a couple friends encouraged me to pick it up, saying it would be worth it. That is an understatement, and I do not say the following lightly: this is one of the BEST books I have read in my adult life. Over the span of thirty years, this novel follows four young men who meet as college roommates and begin their adult life. Boring, right? Yep, that's what I thought, but by page 10 I was completely unable to put this book down. Read in four days, early mornings and late nights, the story is so compelling, so intense, so raw, and so rich that it pulls you into their lives in a way I have rarely felt. Yanagihara is an incredible storyteller and beautiful writer, but she doesn't get caught up in the poetry of her words; she truly stays focused on the four friends, in particular Jude, the most tortured of the boys. I have not wept this many tears over a book in I don't know when, and yes, it was worth every tear. This will be a book I never forget; I cannot recommend it highly enough.
The Trespasser
by Tana French
If you haven't read any of Tana French's Dublin Murder Squad mysteries, and you like a well-written Irish story, you really need to pick one up. They do not need to be read in any order, as each book picks on a different detective and a new murder, I have loved all but one (
The Likeness
- not her best), and her latest trip back to Dublin is one of the best in the series. This time around, the two main detectives are some complex characters with unique issues. Antoinette is the only female detective in a sexist, bullying environment - she is tough, feisty, assertive, and brings the fight first. Her partner, Stephen, is a pretty boy who likes to be liked, but only on the surface; he is smart, manipulative, and loyal to the core. As the two detectives investigate what should be an open-and-shut domestic homicide, they learn the dark side of the Murder Squad and those people who will do anything to protect their turf. Great read!
The Light in Paris
by Eleanor Brown
I loved Brown's first book
The Weird Sisters
; it was quirky, well-written, different. I was excited to see a new book out from her after five years, figuring she took the time to write another winner. However, I was underwhelmed by her latest effort. The premise wasn't bad with two parallel stories: Madeline, a woman in the 1990's, unhappy in her marriage, tied to a 'conventional' life that she did not want, and Margie, her grandmother who spends a season in Paris in 1924, looking for that unconventional life denied her by a well-to-do family. It had great potential, but was wasted in a predictable story line, and poorly drawn characters that were hard to root for. I frequently just wanted to slap Madeline, tell her to quit whining, and MOVE ON; Margie was slightly more heroic, as she tries to make a go of living without her family's money and breaking out of all of life's rules to live the life of a French writer. Alas, Eleanor Brown devolves into the convention that her characters tried so valiantly to escape in their own literary lives and writes an inevitable end that leaves no room for an 'ah-ha' moment, pleasure in the unforeseeable, nor any true feelings other than disappointment.
The Last Days of Night
by Graham Moore
One part legal thriller, one part historical fiction, and one part love story, this new novel by Graham Moore (
The Sherlockian
, screenwriter of
The Imitation Game
) is a page turner. Young attorney Paul Cravath (yes, you can find him on Wikipedia), is inexplicably hired by George Westinghouse for the patent battle against Thomas Edison. Thus, the story of the beginning of the era of electricity, invention, and modern industrial age plays out and it is a fascinating look into the lives of these famous historical characters. J.P Morgan and Alexander Graham Bell even have a cameo, as well as Nikola Tesla, who plays a bigger part in the invention of electrical current than I ever knew. Reminiscent of the race between Gates and Job to invent the first personal computer, this was an intriguing novel that shows how creativity, concentration, passion, and greed shaped a new age for America.
Harry Potter and the Cursed Child
by Jack Thorne
I've only had about a million people ask me if I've read the new
Harry Potter; it's a logical question considering my obsession with Hogwarts, Muggles, and anything HP-related. So now the answer is "Yes," I took a morning and read the script of the play currently on the London stage. And "No," J.K. Rowling did not write this book, but merely acted as a consultant with the playwright to bring the world of Harry Potter back to life. Here's my conclusions: 1) it was an absolute delight to find myself once more in this world, to be reading about characters I consider old friends - it warmed my heart 2) it's not a book - of course there's not deep character or plot development - it's a script of a play so put that into perspective 3) you need to be a fan of alternative-reality scenarios - there's a lot of them 4) is it worth it? Absolutely! Jack Thorne gets this world, and he understands the lives of children - their anxieties, their friendships, their troubles with parents, etc. He does a worthy job of weaving all the important pieces into a new tale of Hogwarts and its students; I thoroughly enjoyed it.