The Tethered Mage
by Melissa Caruso
Debut author, brand new YA fantasy series, badass female characters, creative plot line - yep, I was hooked. In the Raverran Empire, children who are 'mage-marked' (ie. they can do magic, insane magic like out of control fire, melting peoples' bones, building mirrors to trap intruders) are taken by the government at a young age and 'tethered.' Think falconry, as these young magicians, now known as Falcons, are imprisoned by a magical bracelet and a couple words that when spoken by their Falconer, release their devastating magic. Problems are inherent in this system, with underlying themes of enslavement, devotion to war, and political machinations to gain the upper hand with the empires that surround Raverra. Enter two incredibly powerful female characters: Amalia, daughter of a powerful council member and the Falcon she ensnares, Zaira, who has been able to avoid capture for all of her seventeen years and definitely does not want to be anyone's Falcon. This is an exciting first installment to a new series that has great potential. I do feel like it would have benefitted from further editing (definitely too long), and some stronger character development for some of the males. However, I did appreciate the way in which Caruso dealt with the cultural mores of Raverra, noting that many of their leaders are women, that Falcons and Falconers could be in a same sex marriage, that skin colors were different. All these ideas were just part of Raverra society, acceptable and nothing that really raised eyebrows; it's just the way their society works. That is powerful.
The Chosen
by Kristina Ohlsson
Looking for a complex, well-developed, page-turner of a police/murder mystery? Check out Kristina Ohlsson's series of which
The Chosen
is #5. Considering I remembered very little of the previous books, one does not have to worry about reading them in order as each stands alone. Two main characters drive the action, Alex Recht, head of the violent crimes unit in Stockholm, a quiet intense man who is all business, and Fredrika Bergman, a brilliant detective with a busy home life that never gets in the way of solving the crime. Throw in some intense peripheral characters such as Petyr, a detective that was removed from his job due to murdering his brother's killer (that's a whole 'nother novel!) and Eden, who works for SAPO, the Swedish equivalent of the FBI/CIA, has a past with a Mossad agent, and is a stone-cold spy, and a fabulous cast of characters will make it difficult to put this book down. The plot begins with a dead preschool teacher and two missing school boys from a Jewish community school; so many twists and turns line the road that I was flummoxed until the last twenty-five pages. If you like those dark, Nordic mysteries, don't miss this author; she's a winner every time out.
The Language of Thorns
by Leigh Bardugo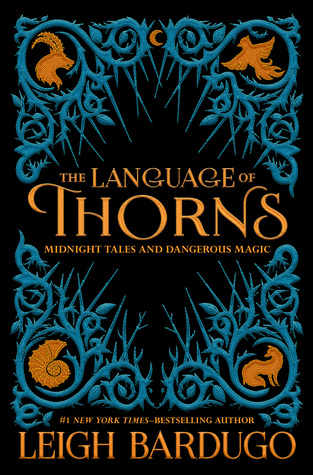 One of my very favorite YA fantasy writers (Shadow and Bone trilogy, Six of Crows duology) has written a new book full of six short stories, gorgeous illustrations on the interior pages, and a different view of some well-known old favorites. A lover of magic and fairytales, I knew this book was for me as soon as I turned the first page. Bardugo wears a different set of spectacles to retell some old tales, and to give us the dark and twisted endings that they always deserved. Think Hansel and Gretyl, but what if the witch was not actually evil? What about the Little Mermaid and Ursula? Two sides exist to every story, as does some background intel. And sweet little Clara and the Nutcracker? Oh my, that is a much creepier tale in the hands of this author. This would be a fabulous gift for any child age 11 and up, as well as any adult who loves fantasy, magic, and a different viewpoint.
Promise Me, Dad by Joe Biden
Listening to this new memoir in Joe Biden's voice is definitely the way to go, though be wary - I cried as I walked my dog as I listened to the last hour. Biden's story covers the last few years of his time as Vice-President of the United States, as well as the impact of his son Beau's death on not only Joe, but his family, his position, and the vast world that knew, admired, and loved Beau Biden. This is a family that has been remarkably touched by tragedy: the death of Joe's wife and daughter in a tragic car accident, the long hospitalization of his young sons, and the long battle with brain cancer that ultimately took Beau's life. I was impressed with the writing in this book; Biden is a beautiful, lyrical writer, particularly when he writes of his family, his dedication to those in need, and his connection with others marked by tragedy. I was less invested in some of the minutia surrounding his work with Ukraine and Iraq, though I did learn more about the impact of our foreign diplomacy on world relationships. I found this book to be inspiring, knowledgeable, and heart-breaking.
Al Franken, Giant of the Senate
by Al Franken
Disclaimer: I wrote the following review prior to the allegations that came out against Senator Franken. After thinking long and hard about whether I should still include this review, I decided to do so, without editing it. You will read in the book about his admission of sophomoric, inappropriate jokes written while he was a comedian, and his acknowledgement of his mistakes. I hope I can stand by my review as the news cycle continues to move; we shall see...
If you have lost faith in the ability of government and politicians to positively impact your life, read this book. If you want to laugh out loud, read this book. If you want to be moved to action, read this book. Heck, just read this book, or actually listen to the audio as Senator Franken reads it to you and his comedic timing is pretty perfect! I am not usually a huge fan of celebrity memoirs; not sure I've read one since
Mommy Dearest
came out decades ago. However, I cannot really classify this as 'celebrity' as Franken has become so much more than that in the last fifteen years. (And if you watched him eviscerate Betsy Devos in the hearing for her Secretary of Education confirmation, you know what I mean) Franken tells of a very middle-class childhood growing up in the suburbs of Minnesota, his early years as a writer and sometimes actor on SNL, his journey to being a voice for progressive politics, and his eventual run and time in the United State Senate. I found this book utterly fascinating: the behind the scenes of how legislation works, the relationships with fellow politicians, his sardonic and biting insights into how government is supposed to work and how it really does. It is not a book written to stroke his own ego, to tell us how awesome Al Franken is; it is actually a book that attempts to renew one's faith in the power of government to change lives and to support Americans in their dreams, as well as just to explain how a regular kid from middle America gets to be a 'giant.' This was my favorite 'listen' of the year, best memoir in decades.
Never Caught: The Washingtons' Relentless Pursuit of Their Runaway Slave, Ona Judge by Erica Armstrong Dunbar
Considering all the talk of past slave history and whether we should memorialize Civil War heroes, I thought this would be an interesting book to read. It follows the escape of Martha Washington's personal slave, and the 'no holds barred' pursuit of her by our leading Founding Father (be forewarned: you will never think the same about George and Martha Washington again) It was an interesting book, but it could have told the story in half the time. Too many fillers and repetitive stories for me. Therefore, this book is a 'meh.'
Poison by Galt Niederhoffer
The book caught my eye due to its intriguing plot line: 'perfect' marriage falling apart as wife suspects husband of trying to poison her. Interesting, right?! Nope. Unfortunately, the characters are incredibly unappealing: the husband, a smarmy twisted architect who weasels his way into a young widow's heart and family, little character development of why he is such a nasty human; wife who is inconceivably a hotshot journalist and professor from Columbia, who comes across as whiny, weak, and completely nuts. I understand that is part of the plot, wondering who's crazy and who's telling the truth; however, the two main characters were just so smug, or wishy-washy or unlikable that I just did not care. On top of that, as a Seattle native, I never understand why an author would set a story in a place they have so obviously never visited. Niederhoffer uses every stereotype ever written about Seattle to define it incorrectly, and on top of that says the mountains that surround a Pacific Northwest city are the Sierras! (For the record, those are in California - they're called the Cascades here in the northwest). I found myself laughing out loud at the book, and I'm pretty sure that was not the author's intention.
The House on Foster Hill by Jaime Jo Wright
Having read the description on Net Galley, I was thrilled to get a copy in exchange for an honest review. I will preface this review with the idea that this is not a book for me; however, I also do not think the description of the book is accurate as to what is inside the cover. It is described as a thriller type of mystery, as a page-turner told through two different view points, one from long ago and one from today. However, the mystery seems to be secondary to the romance as well as tons of heavy Christian theology. I don't read romance, I don't want to be preached at, and I don't want to be told that faith and belief will change my life; I prefer when characters take control of their fate themselves. Thus, this was not a book for me. The mystery from a hundred years ago was by far the more interesting story and perhaps I would have liked the story better if that had been the only perspective (daughter of small town doc tries to solve mystery of murdered girl, missing baby, and creepy house). The modern story of a young widow buying the old creepy house while being stalked by her past was a bit obvious, predictable, and wrapped up in too much religion and romance.
The Perfect Husband (Quincy & Rainie, #1) by Lisa Gardner
Anyone else obsessed with the new Netflix series Mindhunter? So, I thought I would find a good mystery about FBI profilers. Yep, don't bother with this one. Written in 2004, it is incredibly sexist and predictable; the big tough private eye has to save the poor weak female who tries soooo hard to be tough, and let's throw in some questionable 'sex' scenes that border on abuse as well. Ugh...waste of three hours. I know Gardner is a popular mystery writer; I sure hope she has moved past the sexist blech of this, her first in the series. And no, it does not even deserve a picture.