Two If By Sea by Jacquelyn Mitchard
Jacquelyn Mitchard (Deep End of the Ocean) is back with another beautifully written novel, once again focusing on the intricacies of family. Frank Mercy, an injured and retired policeman, survives a devastating tsunami on Christmas Day on an Australian beach, but loses his wife and unborn child. However, the next day when searching for survivors, Frank pulls a small boy from a sinking van, as the boy's brother tells Frank that Ian is 'important,' before being swept away in the flood. As Frank begins a new life, full of secrets and lies as he spirits the boy back to America with him, we begin to see how important Ian is, as well as the extraordinary gifts he has, gifts that some people will do anything to obtain. Frank's job as a horse trainer brings him into contact with intriguing characters, as well as showing the deep bonds of the owner and animals. This is a rich story, filled with deep love, sorrow, and ultimate redemption as Frank Mercy finds his way back to life. (March 15, 2016)
Lilac Girls by Martha Hall Kelly
I have read so many WWII books, books on the Jewish holocaust, books of war and trauma, I honestly wondered...is there a story I have not read yet on this subject? The answer is in this book... yes, I had one more left to read, the story of Ravensbruck and the horrific experimentation done on so many young women. Kelly uses three narrators to tell her story: Kasia, the young Polish girl, swept up in the resistance, who's mother and sister are taken with her to the prison camp; Herta, a young German doctor, desperate for money, who chooses to work at a new 'summer camp'; and Caroline Herriday, a real-life New York socialite who works tirelessly for war victim, particularly when she hears the fate of the Ravensbruck 'rabbits'. I
t was an interesting point of view, to look at the German doctor's immoral acts, justified in her own mind to survive and flourish in a world of war, juxtaposed with the heroism of the girls.
The story is heart-wrenching at times, moving between the horrors of painful and debilitating surgery in Poland, to the heartlessness of the German doctors, to the struggles at the French consulate to get help and aid to refugees. Author Martha Kelly first heard the story of Carolyn Herriday when touring the famous gardens at Herriday's Connecticut home, and realized few people know the story of the 'lapins' (rabbit in French); these girls were horribly disfigured, and then ignored by history, until Carolyn came along to help them reclaim their lives, even in communist Poland. It is an engrossing story about some remarkable and heroic women. (April 5, 2016)
Britt-Marie Was Here by Frederick Backman
When I saw this lovely new book by my favorite Swedish author, just sitting there on the ARC table (advanced reader copy), I felt my fingers tingle. After laughing and crying and cheering for the characters in his first two books, A Man Called Ove and My Grandmother Asked Me To Tell You a Story, I was ready to dive back into Frederick Backman's words. He goes back to a minor character from his Grandmother book, the crotchety old neighbor of little Elsa. However, Britt-Marie is now separated from her skeezy husband and the book begins with her harassment of the girl at the Unemployment office. Britt-Marie is lacking in social skills, cleans obsessively, and has not a clue how to be her own person. However, a new 'job' at a rec center in a small dying town in Sweden changes everything for Britt-Marie. The list of unique characters is a long one: 'Somebody,' the wheelchair-bound pizzeria owner; Banks, the blind woman with bitter memories; Sven, the lonely policeman who takes 'courses' on pottery and cooking; and most importantly, the football players: Vega, Omar, and older brother Sami, who have been abandoned by their parents; Pirate, whose father is in prison; Psycho, who is a more loyal friend than perhaps his name allows, and Max, who's father hides a secret. This is a story of healing a woman stuck for too long in the past, who has never given herself permission to 'jump,' and who has a Grinch-sized heart. You will laugh, cry, and cheer for Britt-Marie...guaranteed.
(May 2016)
The Life We Bury by Allen Eskens
Joe Talbert has a complex life: an autistic eighteen year old brother, who needs more than Joe can give; an alcoholic mother who pops in and out of the county jail, demanding bail money from her 'college' boy; the mysterious girl next door who wants nothing to do with Joe; and the English class assignment to write a biography on an interesting person. Thus enters Carl Iverson, a relationship that will change Joe Talbert forever. You see, Carl is dying of pancreatic cancer, residing in a nursing home with 24 hour care. The nurses, however, are not that kind to Carl, considering he spent the last 30 years of his life in the Minnesota state prison for raping and killing a 14 year old girl. As Carl details his dying declaration, Joe begins to realize that this Vietnam war vet, tortured-soul of a man may be much more than a homicidal killer. Memories of his grandfather's death wend its way through Joe's memory, forcing him to confront the redemption he so badly seeks. This is much more than solving the mystery of a young girl's death; it is about the idea of what makes a family, how our past impacts today, and how we find hope in life we once thought was 'buried.' This was a truly fantastic read - you won't be sorry you read it.
The Girl in the Red Coat by Kate Hamer
(I think someone told mystery/thriller writers to always put "Girl" in the title, and it's a guaranteed hit - not a bad idea, considering the past couple years - but a little originality is not a bad thing). Now...on to the book, which was quite good, regardless of the repetitive title. Beth, a young newly-divorced mother in England, is a typical, constantly-worried, over-protective woman when it comes to parenting her eight year old daughter. Therefore what happens? Of course, said daughter disappears. However, the twist comes in as the other narrating voice in the story is Carmel, the daughter herself. As we see Beth go through the early hours, days, weeks, and then years of Carmel's disappearance, we also see Carmel's new life, as well as her rather 'unique' talent. Kate Hamer, a debut author hailing from Wales, is deft at building suspense and laying down clues to for both the reader, as well as for Carmel's mother. This is a solid first effort, well worth the read.


Pax by Sarah Pennypacker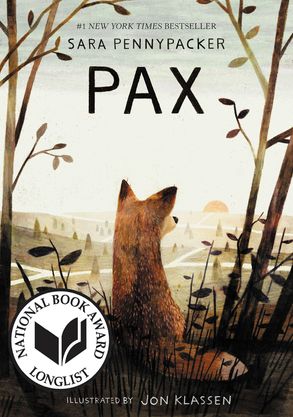 If you have a middle-reader (ie. Grade 4-6), keep reading...Pax is the latest hot new hit in the world of children's literature, and it is well-deserved. Reminiscent of Where the Red Fern Grows, the story of Pax, the stalwart young fox and his boy Peter will keep you riveted to each page. As a war comes to Peter's homeland, Peters if forced to release his fox to the wilderness as his father deposits Peter at his grandparent's farm. Having raised him from infancy, Peter cannot get Pax's face out of his memory, and is compelled to return to the 'scene of the crime' and rescue his beloved pet. The story is thus told through both Pax and Peter. We see the dangers of Pax's new life, the friends he makes, as well as the enemies, and the heart Pax shows to survive; we also see Peter's determination to do what is right for Pax, the people who both aid and deter Peter, and the rawness of his love for the little fox. Often teary and tense, this is a beautiful magical tale of deep and abiding love, and the courage to do what is right. Highly recommend:)