Anything is Possible
by Elizabeth Strout
Pulitzer Prize winning author, Elizabeth Strout (
Olive Kittredge
) is back to what she does best...stringing separate short stories together through similar motifs as well as character connections. Few authors are so skilled at the sparse, spare writing that has the ability to illuminate so much. Admittedly, this author could write a grocery list and I would purchase it; I am consistently in awe of her brilliance. In a nod to her latest book
My Name is Lucy Barton
, Strout takes the peripheral characters from that short novel and gives them each their own moment of fame, in this case, their own chapter. We return to Amagash, Illinois, the town of Lucy's birth, reminded once again of the amalgamation of society in the heartland of America: the desperately poor, trapped by drugs, lack of education, and the disappearance of economic opportunity; the small town well-to-do folks, who have little concept of the 'other' and their needs; the folks who desperately seek love, sometimes finding it, sometimes not; the ones who escaped the small town trap, seeking bigger lives for themselves; and most importantly, we meet Lucy again, finally, in her attempt to return and reconnect with her siblings. Does it help to have read
Lucy Barton
? Yes. Is it necessary? No. (However, you should anyway - it is a fabulous book!). This book illuminates so much of what not only divides our country today, but also what heals our country; it is the story of men and women, adults and children, old and young, and their struggles to find a modicum of happiness in their one brief time on earth.
Beartown
by Frederick Backman
The author of the international bestseller,
A Man Called Ove
, is back! On the surface,
Beartown
is a novel of a small town where every man, woman, and child is obsessed by hockey, driven to watch, cheer, and kowtow to anyone connected to the rink, and willing to look the other way for both small as well as life-changing offenses. Yet, hockey only grazes the surface. This is the story of Amat, the phenom who skates for free while his mother cleans the rink. It is the story of David, who needs to win and will motivate his boys any way he can. It is the story of Benji, a player with a huge heart and an even bigger secret. And it is the story of a family and a girl, whose core belief in their town, in what is true and honorable and right, is shaken to its very core. All these dynamic characters are drawn together and tested as a terrible tragedy strikes the hockey family, and ultimately the entire town. This story will sear your heart, force you to question your own actions, and make you cheer for the heroes that emerge. Backman is back...and this is his most powerful book yet.
We Were the Lucky Ones
by Georgia Hunter
My first thought was...do I really want to read one more WWII book? Haven't I heard it all? After reading Georgia Hunter's debut novel, based on her Jewish family's experiences surviving the Holocaust, the answer to that question is a resounding YES I needed to read another one and NO, I have not heard it all! After learning about her Polish relatives' survival, Hunter does a masterful job of research, weaving a tale of incredible hope and survival. Covering the war years alone, we see the insular Jewish family of a mother, father, and five children, along with a few spouses as the Nazis slowly and insidiously enter their lives in Radom, Poland. As siblings are spun around the world (Russia, Brazil, Palestine, Italy, America), the war enacts terrible tolls, particularly on the one young grandchild. At times it was hard to read as it wrung my heart out, yet it is filled with the such great courage and yes, hope. The familial ties that bind this family together are extraordinary. The beginning is a bit slow as you try to sort out who all the family members are, but do not give up; the tale of survival and the incredible ending is worth every moment.
The Stolen Child
by Lisa Carey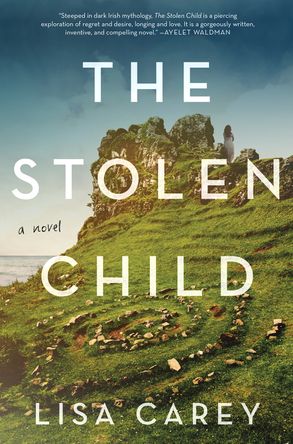 Having just spent a week hiking on the 'Wild Atlantic' coast of Ireland, this was just the book for me. Purchased in the Dingle bookstore, this book swept me away to a time period sixty years ago, on an island off the coast of Ireland inhabited by a fierce, independent, proud group of people who believe in the miracles of saints, the mischief of fairies, and the existence of changelings. Twins Emer and Rose both have their own families, but are torn apart by their enormous differences: one loves her husband, one merely settles; one wants to stay forever on the island, one wants to take the offer of of housing on the mainland; one is sweet, loving, and kind while the other is filled with a deep well of sadness, anger, and abandonment. When an American woman named after the island's saint, Brigid, comes and settles on the island, everyone's life is changed forever. This book is filled with passion, magic, tension, sorrow, anger, and hope; it was a beautiful journey into Irish folklore as well as the history of the coastal islands.
The Witchfinder's Sister
by Beth Underdown
The premise sounded promising...17th century England, sister Alice returns home to live with brother Matthew when her husband dies in London, and finds her brother to be a nutcase when it comes to the occult. However, I found this book to be a bit of a drag. It took until half way through to really get into some plot development, as the author dragged the story along, plodding through the background on the family dynamics, the mystery of the brother's facial burns and their old servant, the complexities of their mother's mental and physical illnesses, the sister's hard life and marriage in London, etc. etc. etc. And quite frankly, I was less than interested in these details as little tension was developed, nor any characters I could sincerely love or hate. The second half was better, as the brother and sister take the 'show on the road' and ride about the small English villages testing young women for their skills at witchcraft. Some emotional angst is brought in as the sister struggles with her own morality as she becomes complicit in the trials and deaths of these women. The author plays with the idea of evil entities taking actual physical form, but does not firmly commit which is disconcerting to the reader. Is it fantasy? Is the evil read? Or is the evil within humanity? I would have liked more answers. Ultimately, I turned pages quickly in the end just to finish it, not because I was enamored.
The Women in the Castle
by Jessica Shattuck
This book has garnered quite a bit of buzz in the book world so I was excited to finally get to it on my bookshelf. However, I was a bit under-whelmed. The plot line is actually quite intriguing, with a bit of a different take on WWII and the Holocaust. Instead of following the war, we see the aftermath and destruction of Germany, as well as the time period leading up to the declaration of war. It was interesting in today's times that we are living in, with the rise of nationalism across the Western world, to see the rise of a dictator who subtly and insidiously plays on people's fears until they are willing to follow blindly. The book is well-written, though at times I would have liked less long paragraphs and a bit more dialogue. However, my main issue with the book were the three main characters who share the post WWII life in the castle: Marianne, a privileged German aristocrat, courageous yet morally judgmental and inflexible; Ania, a hard-working mother of two boys with a dark secret; and Benita, an uneducated peasant thrust into a world of aristocracy and intrigue. I continuously read, hoping to see some development with the three characters yet I was ultimately disappointed. I found little to like, to applaud, or to feel deeply for in any of these women. Is it a good story that keeps you reading? Yes. Are there great heroes and villains? Not really. For a reader like me who loves richly developed characters, I would not recommend it.