WINNER
:
The Heart's Invisible Furies
by John Boyne
John Boyne explores the full life of Cyril Avery, a boy born to a poor unwed Irish mother in the 1940's, raised by emotionally negligent (though hilariously funny) adoptive parents, who experiences the entire 20th century as a gay man, who enters the 21st century in awe at how his world has grown.
This book will make you laugh, cry, and learn about the complex times in which we live. This is Boyne's masterpiece in his writing history; you will not forget the experience of his words.
General Fiction
:
Beartown
by Fredrik Backman and
This is How it Always Is
by Laurie Frankel
Beartown
is a departure from Backman's
Ove
bestseller, but this powerful story of hockey and rape culture in a small town is not to be missed / Frankel's book is a heartwarming and heart-wrenching novel of how a family adjusts and morphs to fit the world of their transgender child into their changing expectations of the definition of family
Honorable Mention:
Lillian Boxfish Takes a Walk
by Kathleen Rooney,
Anything is Possible
by Elizabeth Strout*,
Americanah
by Chimamanda Ngozi Adichie,
Our Souls at Night
by Kent Haruf,
My Absolute Darling
by Gabriel Tallent,
Little Fires Everywhere
by Celeste Ng,
The Power
by Naomi Alderman,
The Twelve Lives of Samuel Hawley
by Hannah Tinti
YA
:
Dreamland Burning
by Jennifer Latham
In our time of racial divide, it is powerful to look back into history, at Tulsa in the 1920's, and remember a time of great racial strife that led to murder and mayhem, as well as to changes in outlook and belief systems.
Honorable Mention:
Salt to the Sea
by Ruth Sepetys,
The Hate U Give
by Angie Thomas,
Mr. 60%
by Clete Barrett Smith
Historical Fiction
:
Love and Other Consolation Prizes
by Jamie Ford /
Lightning Men (Darktown#2)
by Thomas Mullen
Love
encompasses the lives of three amazing children, as they grow through the early days of Seattle and find their stories again at the 1963 World's Fair. No one delves into the hearts of children like Jamie Ford, and his ability to teach us and make us feel for his characters is unparalleled /
Lightening Men
examines the early days of the first black policemen in post-WWII Atlanta. Powerful characterization set in a fascinating age - this setting will embed itself into your dreams and your thoughts for days.
Honorable Mention:
The Tea Girl of Hummingbird Lane
by Lisa See,
We Were the Lucky Ones
by Georgia Hunter,
A Tangled Mercy
by Joy Jordan-Lake,
Girl in Disguise
by Greer Macallister
Mystery
:
The Magpie Murders
by Anthony Horowitz and
The Dry
by Jane Harper
Magpie
will take you back to the days of Agatha Christie, with intelligent twists, turns, and red herrings. Intricate and incredibly well-written, this mystery will keep you turning pages / Jane Harper
is the hot new mystery writer of 2017, and
The Dry
is well deserving of all the praise. Australia, a cynical policeman with a history, a dead boy and a false accusation will keep you reading well past your bedtime.
Honorable Mention:
Kill the Father
by Sandrone Dazieri,
Midnight at the Bright Idea Bookstore
by Matthew J. Sullivan,
Unsub
by Meg Gardiner,
Unraveling Oliver
by Liz Nugent,
Odd Child Out
by Gilly Macmillan,
If We Were Villians
by M.L. Rio
Science Fiction:
Dark Matter
by Blake Crouch
What if there was a box that could take you to an alternative universe where you could see what your life would have been like if you had made different choices? What if there were thousands of these life choices? How does one get home, how does one appreciate the life they chose, and what makes life worth value? Trust me, you will read this book in a day, demanding that everyone leave you alone.
Honorable Mention:
All Our Wrongs Today
by Elan Mastai,
Artemis
by Andy Weir
Adult Fantasy
:
An Unkindess of Magicians
by Kat Howard
For those of you missing Harry Potter, this grown up version of magicians and their lives amongst unmagical humans is very compelling. Dark without being too disturbing, contests to the death, an evil entity, and a powerful female lead - one of the best adult fantasies I have read in years.
Honorable Mention:
Beasts of Unusual Circumstance
by Ruth Emmie Lang,
Rules of Magic
by Alice Hoffman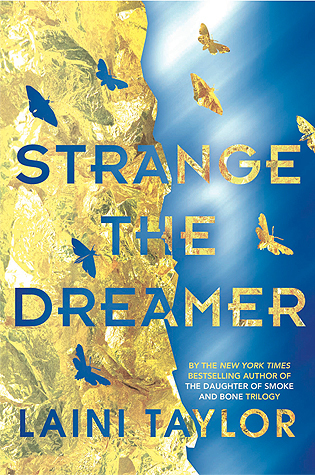 YA Fantasy
:
Strange the Dreamer
by Laini Taylor
A magical city far far away, an entity that can enter your dreams, and a young man destined for greatness...this is an incredible, lyrical journey into a brand new world.
Honorable Mention
:
Caraval
by Stephanie Garber,
Daughter of Smoke and Bone
trilogy by Laini Taylor,
Wonder Woman: Warbringer
by Leigh Bardugo,
The Gilded Cage
by Vic James,
Invictus
by Ryan Gaudin
Memoir
:
The Bright Hour
by Nina Riggs
The story Nina Riggs tells, of her battle and death from fast-moving breast cancer is gorgeous and sad, yet also funny use of gallows humor, and ultimately a very profound look at life, family, and the end we all face.
Honorable Mention
:
What Made Maddy Run
by Kate Fagan,
Born a Crime
by Trevor Noah,
Reading With Patrick
by Michelle Kuo,
What Happened
by Hillary Rodham Clinton,
Al Franken, Giant of the Senate
by Al Franken
Non-Fiction, History
:
Killers of the Flower Moon
by David Grann
The Osage tribe, richest cultural group of the 20th century oil boom, was hunted and murdered for their head rights; this story tells of the heroic FBI agents who found the trail of the killers and brought them to justice. Un-put-downable!
Honorable Mention:
The Jersey Brothers
by Sally Mott Freeman,
Irena's Children
by Tilar J. Mazzeo,
The Immortal Irishman
by Timothy Egan
Non-Fiction, Social Justice
:
A Colony in a Nation
by Chris Hayes
Looking back through history, MSNBC host Chris Hayes explores American history that led to the racial issues of today - fascinating and eye-opening book.
Honorable Mention:
White Like Me
by Tim Wise,
The New Jim Crow
by Michelle Alexander,
White Trash
by Nancy Isenberg
Non-Fiction, Science
:
Bellevue: Three Centuries of Medicine and Mayhem
by David M. Oshinsky
Every medical disease, plague, vaccine, cutting edge discovery in medicine walked through the door of this stories hospital; this is a fascinating look at our history.
Honorable Mention
:
Dreamland
by Sam Quinones,
The Radium Girls
by Kate Moore
Non-Fiction, Self-Help
:
The Life-Changing Magic of Not Giving a F*ck
by Sarah Knight
Okay, I hate self-help books but honestly this one is hilarious and seriously spot-on! I still use my 'F*ck' list I created to bring a semblance of peace to my life:)