French Bistro
by Nina George
Did you read and love
The Little Paris Bookshop
, George's first big American hit? If so, pick this one up also; if not, you still need to pick up this book. Set in Brittany, France, this is the story of Marianne, a sixty-year old woman whose life needs a directional change. Following a botched suicide attempt, Marianne literally runs away, leaving behind her German husband, an autocrat with whom she has spent forty loveless years. When asked why she was in Kerdruc, Marianne replies "I was on a quest for death...then life intervened." Thanks to the kismet of a little painted tile, we meet the quirky characters of the small Breton seaside town of Kerdruc: the white witch of the forest who battles dementia, the beautiful young waitress and cook who refuse to acknowledge their mutual love, the man who tangos his wife back into his arms, the hotelier with a desperate lost love, and an artist who can see deep into Marianne's soul. This is a beautifully told tale of love lost, found, forgotten, and forsaken, asking the question "Does love have to be earned through suffering?" No one dies, there is no dark mystery, nor stomach-churning tension. Instead, this book touched my soul, leaving me feeling bereft of my book friends as I turned the last page.
The Little French Bistro
will leave you with your heart full.
Midnight at the Bright Ideas Bookstore
by Matthew J. Sullivan
For lovers of independent bookstores, page-turning mysteries, and well-developed characters, this book is for you. Just in the first chapter, I felt like I was back as a bookseller at Village Books here in Bellingham, re-shelving books at the end of the day, dealing with the 'regulars', and closing out the cash drawer. However, unlike the main character of Lydia, I never found a dead body hanging upstairs, thank goodness. Yep, that is how this story begins. As Lydia is drawn into Joey's secret life before, and inherits his collection of books where a secret code is hidden, her own past trauma is explored as well. Survivor of a terrible in-home invasion and murder scene, Lydia has demons of her own, as well as a difficult relationship with her father. As all of these pieces of her past crash into the secrets of Joey and his suicide, it truly creates the perfect story. Sullivan, a bookseller in his previous life as well, has created a masterful story in his first outing on the publishing side. Picked for June's Indie Next listing, this book is sure to be a huge hit for all people who love a juicy plot set in a unique locale.
Before We Were Yours
by Lisa Wingate
Seeing comparisons to
The Orphan Train
, a historical fiction book that many of us loved, I knew that Wingate's latest novel would be a good fit. Based on the horrific real-life Tennessee Children's Home Society and the heinous woman who ran it, this is a tale of family secrets, hidden lives, and tragic abuse. Told through dual perspectives, two young women reveal the story. Rill Foss, a young girl who lives in poverty with her family, is taken from her river home in 1939, along with her four other siblings. Highly prized for their blond curls, they are stolen in order to be sold to the highest bidders, enduring both physical and emotional abuse at the Home. The story of today is told through Avery Stafford, the daughter of a well-to-do family whose father is a senator and part of a powerful family in South Carolina. As Avery befriends an old woman in a nursing home, she uncovers pieces of the past that may directly impact her own family. Wingate throws in a bit of a love interest for Avery, as well as some introspection of her direction in life. Personally, I could have done without the romance, but the sister-relationship is beautiful and well-developed. My only issue is the one sentence of a highly offensive racist belief that white girls should be scared of black men raping them. I know, it's just one sentence, but really? As the author does nothing in her book to deal with racial issues, which is perfectly understandable in the context of this story, throwing in a one-off that perpetuates a racist stereotype is just unacceptable. Take that sentence out, and it's a four-star book.
The Breakdown
by B. A Paris
I really loved Paris' first book,
Behind Closed Doors
; it was a tense, powerful thriller about an abusive husband and a wife who eventually fights back. This second book is good, yet I found it to be a bit reminiscent of the first. The premise of the plot is new and different, however. On her way home from a pub gathering, Cass takes a shortcut through the woods and sees a car pulled over; due to the terrible storm that night, Cass continues on her way home and hears the next day of the woman's murder. As the guilt roils her emotions, we also see the ongoing memory issues with which Cass struggles, the impact it has on her young marriage, the slow deterioration of her mind as well as her life, and the help/hindrance of many supporting characters. I read voraciously, with guesses in mind of 'whodunnit' (yes, I was correct from my original guess but perhaps it's because I read a ton of mysteries and not that it was obvious? Hmmm), yet I did wish that Cass did not take so terribly long to grow a backbone and act like a strong capable woman. I would like to see Paris develop that strength sooner, or at least in her next book, have a woman who is a bad-ass and not such a pushover. With that said, if you're looking for a page-turning thriller, this one is pretty solid.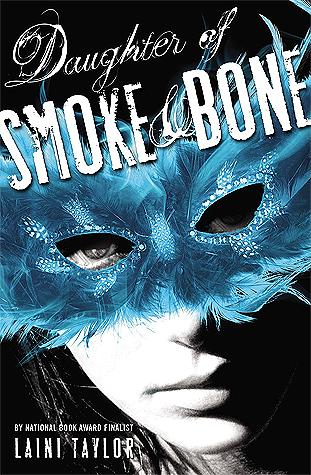 Daughter of Smoke and Bone
by Laini Taylor
The author of
Strange the Dreamer (
and if you have not read this book yet, drop what you're doing and read it - truly stunning in style, character, and plot line), wrote a trilogy a few years ago that I am finally reading. Where has it been all my life?! If you like YA fantasy filled with magical beings (ie chimera), complicated characters (badass teens, monsters, and a few seraphim thrown in), and seriously complex and fascinating plot lines, this series is for you. In the first book, we meet Karou, a young woman who lives in Prague and attends art school with her best friend, Zuzana (don't judge - it's Czech). Karou has been raised by chimaera and knows nothing of her past life, which is revealed to her after falling in love with Akiva, a seraphim come to Earth. I know, sounds crazy, right? Yet Taylor is a master storyteller, unwinding the secrets of the past and present through beautiful language and thoughtful development of her characters. I cruised through this entire trilogy in a week's time. If you've never explored fantasy, give this one a shot - it is an incredible escape from the nastiness of the real world.
The Party
by Robyn Harding
I am baffled by the 'rave' reviews for this so-called thriller. Liane Moriarty, Paula Hawkins, Ruth Ware...these women can all write page-turning thrillers filled with complex characters; Robyn Harding, however, lost me on this one. The premise was promising: sweet sixteen slumber party, tragedy ensues as does a trial, school bullying, and marital issues. Unfortunately, the characters are all pretty two-dimensional, with very predictable behavior and not much growth shown by any of the teens or parents. Did I read it quickly? Yep. Would I like those four hours back? Absolutely. I appreciate beautiful writing, provocative themes, and well-developed characters; this book was just not for me