My Absolute Darling
by Gabriel Tallent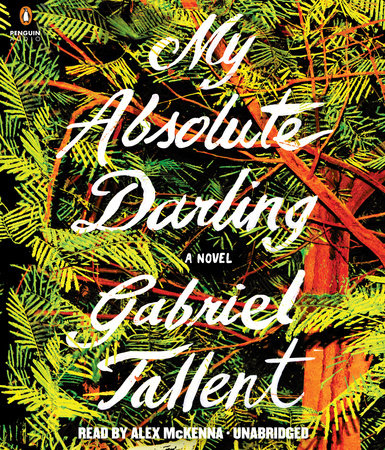 Raw. Disturbing. Intense. These are the first words that come to mind after finishing this powerful coming-of-age debut novel by an impressive new author. The story follows Turtle, a fourteen year old girl being raised by her survivalist father, Martin, as well as her alcoholic grandfather. Incest, physical and verbal abuse, and shocking abandonment is woven through this disturbing tale of how a young teen survives what no one should be subjected to in any stage of life. When a young man befriends Turtle and a teacher reaches out to help, the push and pull of Turtle's life will rip your heart out. This is not an easy read; it will profoundly disturb many readers, but if you can get past the first fifty pages, you will be rewarded with one of the most moving stories of unlikely heroes. Turtle is uniquely complex; she will say things that make you hate her, and then at other times you will want to wrap your arms around her. What you won't ever do is forget her.
Little Fires Everywhere by Celeste Ng
An immediate best seller, Celeste Ng's second book is really that good. Seriously. I liked her first one, Everything I Never Told You, but honestly, Fires is better. The writing, the character development, the varied themes - Ng has honed her skills brilliantly. The story begins at the end, and then puts all the pieces together thanks to a complex crew of characters: Mrs. Anderson, a repressed wife, mother, and journalist, who is aggravating, mean, insensitive, and devoted to her own picture of what makes a life worthwhile; the four Anderson children, all unique and quirky, with pieces both unlikable yet sympathetic; Mia, an artist with a mysterious past and her daughter, Pearl, who longs for a stable home; and a young Chinese immigrant mother who blows the plot line in all directions. This is a powerful novel, with so much 'meat on the bone' for discussions of race, class, parenting, teenagers, art, that it would be an outstanding choice for a book club.
What Happened by Hillary Rodham Clinton
Cmon, admit it, you're curious. Well, I was! I chose to pre-order the audio version just so I could hear Hillary tell me her side of the story. It does not disappoint. Is it subjective? Of course, it is HER story. But is it fascinating? Absolutely. This book not only gives deep and frequent glimpses into Hillary's soul and heart, it also gives us a bird's eye view into the workings of a presidential campaign; I found both compelling. Laced with facts and statistics (it is Hillary, the wonky policy maven), it lays bare the true influence Comey, Russia, and yes, her own actions had on the 2016 electoral college loss. It also gives deep personal stories of her family and friend relationships. Admittedly, I am a fan, always have been. Yet would I recommend this to people who aren't fans, who voted independent or even (gasp!) Republican? Actually, I would, even more strongly than for supporters. By the end, I was sad for our country, feeling that we lost a real opportunity to unite this country and repair some damage. I am still and will always be "With Her." Read the book - it's actually very good.
The New Jim Crow: Mass Incarceration in the Age of Colorblindness by Michelle Alexander
This is a highly read and recommended book, as well as a frequent assignment in today's college curricula; it will change forever the way you see justice in America. Therefore, in today's charged environment, as we watched Charlottesville unfold and the NFL rise, or kneel, to the president's challenge, it behooves us all to gather as much factual information as possible in order to have informed opinions, based on facts and not just what pundits are spouting. This book should be your first stop. I highly recommend listening to it. At times, it can be a bit dry. I would also recommend skipping the first chapter as all that does is lay out, in PhD type of doctoral format, what the author will be discussing in the book - just get to the book. And once you do, you will be given an in-depth historical tour of America and the caste system it has slowly and insidiously built for hundreds of years.
Code Girls: The Untold Story of American Code Breakers Who Helped Win World War II by Liz Mundy
With whiffs of Hidden Figures, author Liz Mundy brings us another true story of women mathematicians and teachers who changed the tide of war to victory, but were unknown heroes for decades. Told in a narrative voice, Mundy reveals the very beginning of the use of women code breakers by both the navy and army. As men were needed at the front, searches began first in the Seven Sisters college system, then through the Ivy Leagues and teachers schools, and by later war years, a warm body with a penchant for puzzles was good enough. Literally thousands of women went out to work decoding, encoding, and even building code breaking machines. Women became respected and revered members of the crypto analysis units, irreplaceable to the war efforts and truly essential to the Allied victories. At times, the writing gets bogged down in minutia, but it always picks back up and returns to fascinating stories of the real women and battles they influenced. (Fun fact: Bill Nye the Science Guy - his mom was a code breaker!) If you like history, love historical trivia and war stories, and enjoy learning about badass women, this book is for you:) I know my WWII veteran and engineer father of mind would have loved this!
Mr Dickens and His Carol: A Novel of Christmas Past by Samantha Silva
Most of us know who Charles Dickens is, the famous 19th century British novelist who brought us Oliver Twist, David Copperfield, and of course, the most cold-hearted miser of all time, Ebenezer Scrooge. In Samantha Silva's debut novel, she imagines how a Christmas Carol was born. It is an inventive, fluffy tale of Victorian England with all the lovely description of the streets that Dickens inhabited and where he found all his characters. We see his family life, his frustrations with fame and the hangers-on who want his money, and his utter disbelief as his previous novel fails miserably and he is strapped for cash. This is a charming little tale that will satisfy the Christmas spirit as well as give one some intriguing insight into one of our most prolific English authors.