Good Me, Bad Me
by Ali Land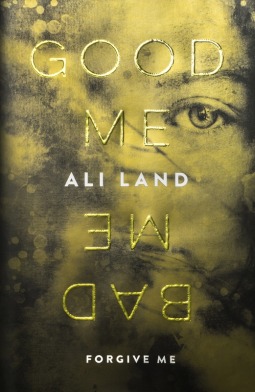 My, oh my, this is one deep, dark, twisty, brilliant, mess-with-your-mind kind of book. Once I picked it up, it was impossible to put it down and it literally kept me guessing until the last three pages. Milly's mom is a serial killer. And I don't mean the garden-variety, "I randomly shoot people" type of killer; I mean the "torture small children and bring sorrow and tragedy into families" type of murderer. So the question is, how does that impact Milly? Can she live a normal life after turning her mother into the London police? Can the psychologist with whose family she now currently lives assuage her painful memories? Can her new 'sister' destroy her with the bullying, or make her stronger? Can her friendship with a younger girl be healing or destructive? And the ultimate question...how far from the tree does this apple fall? Author Ali Land spent years as a mental health nurse in the UK and her deep knowledge shows. She is a master of character development, creating rich and complex humans that a reader can cheer for, or empathize with, or root against as the story progresses. This is one humdinger of a book for a debut; I will be first in line for Land's second book!

The Bright Hour: A Memoir of Living and Dying by Nina Riggs
As age continues to creep up on me, I find more and more people in my life are suffering from cancer and chronic illness, caring for parents with dementia, and have children who are fighting for their lives. This book had been on my TBR pile for awhile, and as I planned the sprinkling of my own mother's ashes, it seemed a cathartic choice. You see,
Nina Riggs experiences what all women fear each time they go in for that mammogram...a spot is found. But people beat this stuff all the time, right? Yep, those are the stories we usually read about, as well as the ones we wish for, but what about the cancer that is hyper-aggressive, that metastasizes quickly, that within a year knocks Nina to her knees and forces her husband and two young boys to confront the realization that this cancer is going to kill her. And as irony would have it, her own mother succumbs to her own eight-year long cancer battle right in the middle of Nina's own treatment. I know, sounds uber-depressing, yet Nina has an engaging, dark sense of humor that makes one laugh at the most inappropriate times, as well as helping us see the everyday trials of this insidious disease. At the end of this book, I realized once again that death finds us all in the end, that we are called to make the most of every moment and give back what we can, to love hard and often and ceaselessly, that our lives are just infinitesimal pieces of the universe, and that laughter and sorrow quite often go together. One can find great solace in this beautiful book.
Home Fire
by Kamila Shamsie
Acclaimed Pakistani writer Kamila Shamsie takes on the topic of jihadi recruitment and the impact on the family in her modern-day retelling of
Antigone
. Left alone by their mother's death and their jihadi father's mysterious disappearance into the gulag of Guantanemo, three siblings each take a separate path. Isma, the oldest daughter, flees to America, burying herself in PhD studies and a friendship with the son of prominent English-Pakistani politician; Aneeka, her gorgeous younger sister, law student, and rebel; and Parvaiz, Aneeka's twin, who gets lured into the dark world of the jihad, and winds up a half a world away from London. We see each side of their story through powerful narration and character development, as the plot slowly and inexorably leads to the final conclusion. This is a powerful tale of what a sister will do for her brother, how lack of hope and prejudicial treatment can twist a young person's dreams of the future, and how far a family will go to survive. It is slow at times, but it builds to a devastating conclusion, with the final one third of the book being the most powerful. This would be an excellent book club choice as it provides one with a variety of life choices to discuss endlessly.
Rules of Magic
by Alice Hoffman
One of my favorite authors is back and I could not wait to get my hands on her latest, due out November 10 (thank you Net Galley for the advanced copy!). While I loved
The Musuem of Extraordinary Things
and
The Marriage of Opposites
,
The Dovekeepers
of 2011 remains my favorite due to its setting in biblical times and the extraordinary four women who tell the story of the Masada. In Hoffman's latest venture, she returns to the world of one of her earliest works,
Practical Magic
, and the Owens family of witches. Thanks to the long-ago Salem witch trials, the intermingling of two families, and a dark curse that hangs over the Owens' head every generation, falling in love can be a deadly prospect. The three Owens children, Fran, Jet, and Vincent, are each highly unique. Hoffman uses magical realism in a delightful way, with mischievous happenings, some humor, and then some dark magic thrown in as well. I was mesmerized by this story - it is what I call a 'delicious' read that will keep you entertained until the very last page.
Upstairs at the White House: My Life with the First Ladies
by J.B. West
The life of the Chief Usher in the White House is outlined in this book, moving from the last term of FDR all the way to the first term of Richard Nixon. As West moves from assistant to head, we see the close business relationship he has with all the first ladies of the era. One experiences the loosey-goosey Eleanor Roosevelt style, where she wasn't even sure who was sleeping and even living on the third floor, the love story of Harry and Bess Truman, with a few laughs over broken bed boards and the real boss of the nation, and the formality of the Eisenhowers and Mamie's love of the color pink. The short tenure of Jackie Kennedy is the most powerful story, with a deep abiding friendship between West and Jackie highlighted, a friendship that moved beyond the walls of the White House. The loud home of the Johnsons and their two teenage daughters was a hoot, and LBJ's obsession with saving money on electricity was ironic. At times, I could have done without the long description of place settings and decorations, but the historical viewpoint was fascinating. I respected West's devotion to not airing dirty laundry, yet it did make him a less-than-reliable narrator, as you cannot convince me all these first ladies were the paragons of virtue he made them out to be. However, it is a great book club discussion book as evidenced by our rousing discussion in our monthly book salon, as well as a thoughtful gift to any parent who lived during these times.
The Last Painting of Sarah deVos
by Dominic Smith
An intriguing, yet very different book, I would say this book has a fairly narrow audience. However, for a variety of reasons I thoroughly enjoyed it. One, it is extremely well-written; the narrative prose is beautifully constructed, yet at times it does go on a bit with little dialogue. Secondly, if you are a fan of art, interested in art history or the Dutch masters, you would definitely enjoy the plot line. It combines three different times periods to create an emotional story around one painting: 1637 and a female Dutch painter whose personal life is tragic, and her relationship with the Amsterdam artist guild is challenging; 1958 New York City where a wealthy art patron and patent attorney owns the only deVos painting, as he searches for the person who stole and forged his property; and the year 2000 in Sydney, Australia, as all the threads of the story come together. It is a slow, beautiful tale, that spoke to me as the mother of an art historian who lives in Amsterdam.